What's your favourite way of spending time in the outdoors? In Jersey, camping is one of the most amazing ways to experience a visit to this beautiful island.
Jersey camping is a favourite outdoor activity for everyone since it caters to people of all ages, and the kids will love it! It gives you the chance to get up-close with nature, gaze at the stars, and escape the stress of everyday life.
Jersey is a destination renowned for being one of the warmest islands in the British isles, with many glorious days of sunshine throughout the year. The beautiful island is home to several camping sites with spectacular scenery and some incredible ocean views. There is no limitation to camping in Jersey from family-friendly campsites and pitching your own tent to pet-friendly campsites and camping holidays by the sea. Camping in Jersey is an experience in itself, as it offers a mix of both British and French culture. Here's a detailed guide about camping in Jersey.
Why Camping in Jersey is a Great Idea
Located on the southern tip of the Channel Islands, Jersey offers a remarkable holiday experience for all. Plenty of outdoor activities awaits you – walking, cycling, horse riding, coasteering and some fantastic coastal bike rides. The island is a haven for those seeking relaxation at its finest, but also those looking for that next adrenaline rush.
Jersey is your ideal year-round destination. Whether looking for a glamorous camping experience or getting close to nature, Jersey really does have the perfect escape to suit every taste. Whether you're planning a short break during winter, or looking to take a longer summer holiday, there's a campsite best suited to your needs – the only problem you might have to contend with is deciding on which one!
Jersey campsites are spacious, family friendly and allow you to discover the beauty of Mother Nature without disturbance. Also, campers are provided with state of the art facilities to guarantee a comfortable stay.
From campers looking to experience the great outdoors the best way, Jersey campsites have got you covered. Some of the camps have introduced "glam-ping," an experience which allows you to get the most of your camping experience without giving up comfort and convenience.
Places to Camp in Jersey
Its worth taking some time to check out which campsites best meet your needs. Are you looking to take the dog with you? Then finding a pet friendly campsite is essential. If you're after sea views when you wake up in the morning, then there's a campsite for you. Or if its somewhere to keep the children entertained whilst you prepare the next BBQ then there's one for that too – here's a quick overview below of the best campsites in the Bailiwick of Jersey.
Rozel Camping Park
A family managed site in St. Martin which has been around for over 40 years, Rozel Camping Park Jersey offers spectacular views across the sea to France. The camp has proximity to the popular Durrell Wildlife Park as well as the quaint fishing village of Rozel to stock up on essentials.
Half of the campsites pitches boast 10-amp electricity, so its worth checking when you book if you need this. Other facilities include a kid's paddling pool which will keep the children entertained and cool in the summer months, solar heated swimming pool with sheltered surrounds for sunbathing, games room and facilities for disabled visitors just to name a few. Fitness enthusiasts can take an early morning walk or go cycling along the Green Lane network of tree-lined narrow lanes.
You will find many level pitches for trailers and large frame tents. Also, holidaymakers with their own caravans and motor caravans can also enjoy this campsite.
St. Brelades Campsite Jersey
The St. Brelade's area is home to a few wonderful campsites, with Rose Farm being the most notable. Centrally located in a serene spot, Rose Farm has gained a reputation as the longest established campsite on the island, and is the closest to the magnificent St. Brelade's Bay.
Access to the surrounding villages is easy, giving you the options to travel by car or bus. The campsite features lots of swimming pools, so the kids wont be bored. Also, guests have access to internet facilities onsite. This means you don't have to wait till after the holidays to share your experience with friends. And it wouldn't be a campsite without a traditional games room on site. There is also a great restaurant on site, so you don't need to worry about cooking every day and night (remember you will be on holiday!) and the camp shop provides essentials. The shower block is also something that you'll appreciate and is one of the best on the island.
Depending on your choice and budget, you can bring your own tent or hire one of the tents on site spacious enough to accommodate a family of six. Also, caravan and motor-home owners are welcomed.
Bay View Camping Jersey
Located on the east of the island, Bay View Camping is another interesting campsite that will make your decision where to stay even more difficult! This charming enclave offers great views over the Royal Bay of Grouvilee, perfect for waking up to views of the sea. The best time of the year to pitch up and enjoy great ocean view is from May to September. Bay View camping field is spacious, yet serene. The site is closely located to the Jersey Accommodation and Activity Centre Hostel – a building north of Gorey in the parish of Saint Martin. The hostel gives campers the chance to access the many facilities on-site including, laundry room, drying room, shower block, drink machines, TV areas, lounge and a games room.
For some real glam-ping luxury be sure to check out 'the pods' which are a great way to spend your camping holiday. Spacious enough to accommodate up to 4 people, you don't have to worry about setting up and taking down your tent with this innovation. And they are slightly warmer in the colder months!
Daisy Cottage Campsite Jersey
Located in the north-west of Jersey you'll find Daisy Cottage Campsite and Retreat. Just as with most campsites on the island, campers can relax in the privacy of their own tent. Alternatively, they can hire the camp's Shepherd Hut which comes equipped with basic amenities. The campsite is just a few miles away from Plemont Beach, a popular destination on the Jersey coastline which has a great café worth checking out!
Take advantage of the tranquil environment and experience a peaceful holiday far away from the hustle and bustle of city life. Also, there are therapist onsite offering soothing massage, yoga sessions and a range of other treatments which will make your time here even more relaxing.
On site facilities include laundry and ironing facilities, showers, toilets, bar/cafe serving drinks and light meals and a small shop. Daisy Cottage is a pet-friendly campsite so you can bring your furry friend along. It is a peaceful campsite with emphasis on relaxation and healthy living.
What Camping Options Are There Available On the Island?
Jersey Zoo Camping
If you're looking for somewhere a little different to stay in Jersey, then look no further… Set within the Zoo is a glam-ping experience which will satisfy anyone's needs! The camp is set within the Jersey Zoo, which houses some of the world's most endangered species, living safely in large, open and natural spaces. Expect a camping experience like no other when you book your luxurious camping pod. These pods come equipped with shower and water closet, internet access, double bed, and wood burning stove to keep you warm and toasty during the cold nights. That's not all. The views of the stunning Lemur lake at Jersey Zoo will leave you struck in awe.
Experience the uniqueness of Mother Nature, and wake up to the calls of endangered Madagascan lemurs. Jersey Zoo camping offers you the chance to experience your own slice of creature comforts whilst enjoying home comforts at the same time. And for those that stay here you'll have access to the famous Durrell Wildlife Park throughout your stay.
Jersey Zoo camping is open every year from March to October. Being one of the newest places to stay in Jersey, spaces are limited so its definitely worth planning ahead and booking this one in advance. The peace and tranquillity of this camp are unrivalled so don't miss out!
Jersey Camping Pods
Glam-ping is a unique way to camp. Jersey camping pods are a spacious dome-shaped luxury tent. Each pod is furnished with a stove for cosy heating during chilly nights, kitchen and much more. With these beautiful camping pods, you no longer have to bring your own tent. And if you don't have a tent, pods are a perfect solution.
The pods are spacious and can accommodate up to four adults with lots of headroom. The lockable doors are designed with your comfort and security in mind. More so, Jersey camping pods can withstand extreme weathers. These stylish wooden pods definitely put the glam into camping to experience a remarkable getaway with friends and family. They are a perfect alternative to the tent while offering all the ambience of outdoor living and an enjoyable camping holiday.
Jersey Camping Dog-Friendly
There is good news for those that love to take their furry friends on holiday with them. Jersey Island offers a lot of dog-friendly campsites, so you'll have plenty of choice. Here is a list of dog friendly campsites:
Rozel Camping Park, an attractive park with some amazing features and closely located to the Durrell Wildlife Park.
The Beuvelande Camp Site, a family owned and run campsite with all necessary amenities for a comfortable camping holiday.
Jersey is home to amazing walks with its spectacular green narrow lanes and coastal paths that stretches miles apart perfect for a stroll with your dog. Taking the ferry to Jersey is easy, and the staff onboard will allow you to visit your dog during the crossing (subject to the travel conditions).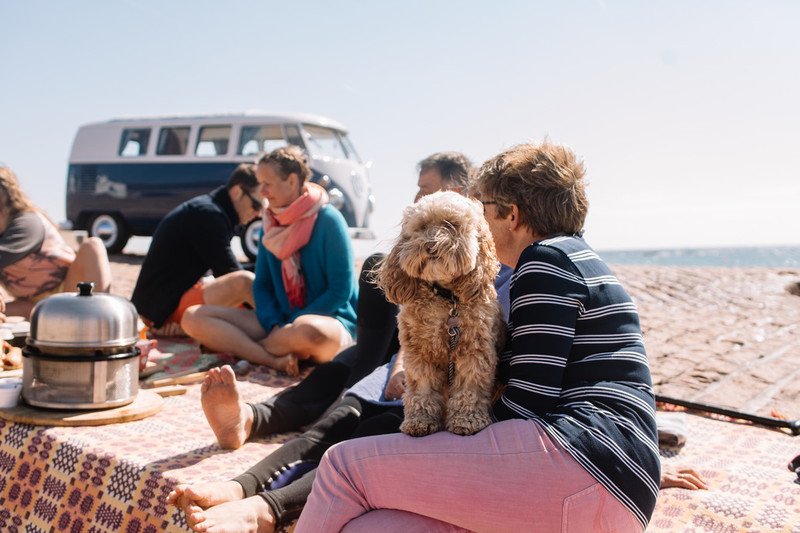 Camping In Jersey with Own Tent
There are plenty of campsites where you can pitch your own tent. This means you can enjoy camping just the way you like it. If you are camping with your own equipment, you should first familiarise yourself with the rules of each campsite to make sure you can fully enjoy your holiday. All campsites offering pitches in Jersey charge a small nightly fee. In Rozel Camping Park, own tents, caravans, and motor-homes are welcome all year round. Here pitches cost from £13 per person per night. Likewise, Daisy Cottage Campsite and Retreat offers pitches as well. Here campers can pitch their own tent from £20 per person per night. Be sure to make a booking with plenty of time ahead of your trip so your permits can be arranged.
Jersey Camping Holidays by Sea
Definitely for us this is a must when choosing which campsite to stay at form your holiday. The good thing, with Jersey being a small island all campsites have sea views and are perfect for coastal walks or bike rides. Whether you prefer to splash in the water, explore hidden coves and lounge in the sun, Jersey coastline offers the ideal destination for an adventurous or relaxed camping holiday on the island.
If you're after the frills and thrills of camping on the coastline, try some water sports including swimming, kayaking, and surfing. Enjoy great views of the sun as it sets over the sea. Go fishing and prepare tasty seafood on a beach fire. Fall asleep to the sound of the surf. The possibilities are endless.
Wild Camping Jersey
Wild camping is the new way to enjoy the great outdoors. Get off the beaten track, far away from the usual touristic spots and experience a glam-ping holiday like no other. For many people, they believe wild camping is far better than campsites. This is because it allows you to hike, or bike to somewhere far away from facilities, unroll your sleeping bag, admire the beauty of the night skies, and wake up to bird songs. It's a great way of reconnecting with nature.
Unfortunately, in Jersey, just as with most European countries, wild camping is prohibited. Nonetheless, regular camping in Jersey still offers you some fantastic views across the ocean and scenery that will make you feel like you're in the wild and off the beaten track.